Welcome to the third post in my How To Liven Up Your Character series! Here's the villains post you all asked for - click
here
and
here
to see the other posts in the series.
[
disclaimer:
there is a spoiler in section 3 and section 6 - but I'll warn you about them before you come to them, so that I don't ruin a series for you]
Villains and antagonists are two highly similar things. I'm not quite clear on the difference myself, but as I see it (and as it has been explained to me) an antagonist is more of an obstacle in the story (Grima Wormtounge, Draco Malfoy, etc.) and a villain is the main bad guy in your story (President Snow, Queen Levana, etc.). Hopefully this post will be able to help you with both ;)
.
1. Clear goals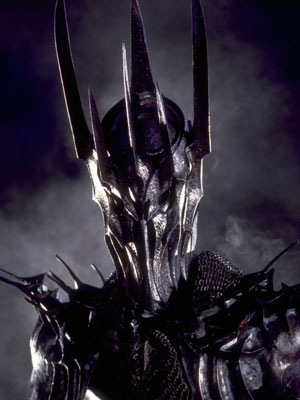 via Google images
A villain has to have a clear goal
. Without a clear goal, your villain will probably become a fairly dull character. Let's take Sauron from Lord Of The Rings, for example.
Sauron created the 'One Ring' - a Ring that will give ultimate power to it's wearer. But it was stolen from him, and thus
Sauron's clear goal is to get his Ring back so that he can rule once again
. His purpose is easy to see, and that makes it so no one will forget that's he there. It also makes it easier for you to realize what your
other
character's goals are if you know what the villain's goals are.
Maybe your villain was also stolen from (whether for the 'good of the world' or just out of spite) and wants to get his or her possessions back. Maybe your villain is a duke or duchess who is tired of playing second-class to the King and Queen, and wants the throne for them self (do be careful with power-hungry villains though, because they easily become cliche). Or maybe your villain is tired of being misjudged for how they look (maybe they're a different race from the other characters?) and so they want to take over the ruling power to show that they are worth something.
2. Activity
via Google images
A lot of villains that I read about (even very good villains!) tend to be fly-on-the-wall type villains. Their henchmen are the ones that do all the work and get all the words. The villain is the mastermind, but won't put himself into danger (*raises hand because I am guilty of creating villains like this*).
But villains tend to be more interesting if they throw themselves into the fray, too. A good villain won't sit back and yell at his minions when they get things wrong (this always annoys me. Why trust your mission to someone else and then get mad when they don't do it how you wanted it? Just do it yourself, please and thank you) -
a good villain will be right in the middle of the action, making sure no one forgets about him.
Let's take Queen Jadis, the White Witch from
The Chronicles Of Narnia
, for instance. While she does send other people to do her work sometimes, she's often in the middle of it (or the head of it!) herself. When she goes to tell Aslan that Edmund is to die, she goes herself. When the climax battle comes, she's the one leading it.
Your villain doesn't need to sit behind a wall of safety and always send minions to do the dirty work - it's cliche, and a little annoying. Maybe start brainstorming on where you can give the villain (instead of a henchman) more attention in your story.
3. Explain why they became the villain (backstory)
via Google images
Maybe you don't want to make your readers hate your villain with all the rage of twenty-five fiery stars - maybe you want readers to feel pity for him (or vice-versa). This isn't hard to do with a good backstory.
Let's take Narcissa Malfoy from the Harry Potter series, for instance. She wasn't one of the main villains, such as Voldemort, but she was definitely an antagonist on the wrong side. You can't help but be mad at her (mostly because she's a Malfoy) - but then J.K. Rowling also shows us another side to her - she shows us how attached to her family Narcissa is, and how she's trying to protect them. The reasons she went to the wrong side is because she thinks she can protect her husband and son. And in the end
(spoiler here)
she lets Harry go because he tells her that her son, Draco, is still alive.
(end of spoiler)
Even though she's on the bad side, you can't help but pity her. Or, on the flip side, you can use your hero's backstory to make reader hate the villain even more.
Maybe your villain got a taste of power once, and needed more - or maybe they honestly thinks that doing things
their
way will help the world, even if their ways seem twisted to everyone else. Or perhaps your villain's sibling died because of one of the good guys, and now they want revenge.
4. Don't stereotype
What comes to mind when you think of villains from stories you've read? I bet our visual pictures aren't too far apart.
Don't stereotype either your villains looks OR their personality/habits.
One villain that is not so stereotypical is Professor Umbridge from the Harry Potter series (and here I go breaking my own rules and using two examples from the same series. Oops). She's an incredibly unique villain - she's very short, always dresses in pink, speaks in a very high-pitched, girly voice, and loves kittens. Umbridge is more someone that I would peg as the grandmother-ly character - but actually, she's way better as a villain who smiles at you sweetly and crushes all your dreams. Basically.
Maybe your villain is a younger girl who cries easily. Or maybe they are seriously on the shorter side. Or perhaps they're related to the leader of your main character's revolution? There's tons of super-fun stuff you could play with here.
5. Appearances
So this point might not be as important as they others, but it's at least worth touching on.
Lots of villains have cliche looks, and honestly? It gets old.
Red eyes, black clothing, menacing voices, and masks are all well and good, but they can be overused. For instance - I've seen too many villains that look a tad too much like the next Voldemort, Saruman, or Darth Vader. Even if your villain's goals and backstory are perfect, I'll give your villain less points if he or she looks like they're trying to be someone else. Be careful to make your villain's appearance different from the norm. However, there are exceptions to the rule. You just have to be careful ;).
Maybe your villain is actually a slight girl who doesn't look like she could hurt a fly. Or perhaps your villain is mute? (the reason he is mute could make his or her backstory more interesting, too) Or maybe your villain has two different-colored eyes, and in his race (whatever 'his race' may be) this is looked down upon.
6. Weaknesses
via Google images
Every character needs a weakness - villains included.
How else would they be defeated, if they don't have a weakness?
For instance, the dragon Smaug from The Hobbit seemed to be unable to die. His armor-like scales weren't able to be pierced - except by a Black Arrow. This, along with his pride, is his weakness.
(spoiler here)
He didn't think he could be killed, so he was careless, and ended up being shot.
His weaknesses were his downfall, and enabled the good guys to kill him. (end of spoiler)
Maybe your villain is terrified of the dark - or they can't stand the sight of blood. Perhaps their "power" (whatever it might be) can only be used if they're touching a shadow. Or maybe the sound of a girl screaming can throw them off their guard (maybe it's connected to something that happened in their past?).
And that ties up this post on villains - I hope you guys learned some useful things! Despite them being evil, I never can help but admire a well-crafted villain ;).
~ Savannah Grace
What is your villain character's goal? What do they look like? Which type of character would you like to see next in this series?